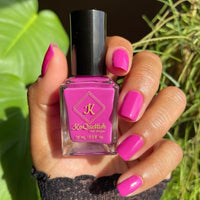 Vegan Cruelty-free Non-toxic Luxurious Nail Lacquer!
All of our lacquers are vegan, 10 cruelty-free & non-toxic. Each Kolor is hand crafted to compliment all Skin tones, Wardrobes, and Moods! Our Lacquer also is non-chipping and non staining when complimented with our lavender infused "Kandi Koated" top coat and our "Koat-It" base coat!
The KoQuettish Lifestyle!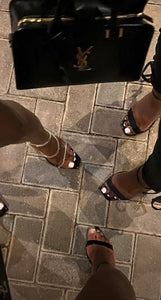 Benefits of our Luxurious Vegan Nail Lacquer!
Our luxurious vegan nail lacquer is made WITHOUT the top 10 toxic ingredients found in most nail polishes such as:
Formaldehyde, Toluene, DBP - Dibutyl Phthalate, Camphor, Formaldehyde Resin, Xylene, Parabens, Ethyl Tosylamide, Triphenyl Phosphate, & Fragrance.  Most nail polishes include harmful chemicals like DBP, toluene, and formaldehyde.  These chemicals can cause hormone disruptions as well as nausea, vomiting, fertility issues, respiratory problems, skin irritations and headaches. By using KoQuettish luxe vegan nail lacquer that does NOT contain such ingredients, you can avoid these harmful health effects and stay healthy even while painting and karing for your nails and style the KoQuettish way!
Mood: KoQuettishly Ka-ute!
Nail polish Kolors affect you mood. Our Brains react to multiple levels with the different Kolors that we see.  Our bodies have an innate response to certain Kolors! The Kolor you choose to paint your nails can really affect your mood! 
Red can cause your heart rate to increase, and Green is a very relaxing Kolor! Blue can leave you with a calming feeling, and Yellow can elicit dopamine making you happy!  Get into it Beautiful!               
Our Kolors are #flirtatiouslykontagious!
Self-Kare the KoQuettish way!
Self-Kare is the most desirable and deserving thing everyone should take the time to indulge in!
Something as simple as painting your nails can have a calming effect on the mind.  When you paint your nails, you are able to take time for yourself without distractions in order to relax and pamper yourself.  This process can promote healing and create a mind-body connection that will ultimately improve your overall being! 
I absolutely love the choice of color, so many to choose from. Its fitting to many skin tones! The ordering process was smooth and my package arrived not only on time but a few days earlier. I was blown away by the packaging and handwritten thank you card. I love it!

Shamekia H. Houston, TX
No Shade is absolutely Gorgeous! Its the perfect shade of red. It's my new fav!

Sophie J. Oakland, Ca.
It's soo nice and classy! I love the color too!

Madison W. Baton Rouge, La.